Spinal Decompression from Dr. Bruce Berns
Neck, back, and extremity pain can often be attributed to disc abnormalities in the spinal column. If you've been struggling with neurological issues related to pinched nerve tissue, you may be worried about whether or not you need surgery, and what you might do if surgery fails to solve your problem (or aggravates it). The good news is that you have other, less invasive options when you bring your disc problems to LI Integrated in Ronkonkoma, NY. Our chiropractor, Dr. Bruce Berns, can employ non-surgical spinal decompression to ease nerve impingement and restore normal feeling and function.
For more information on the DRX 9000 Spinal Decompression Machine, Check out these Videos:
DRX 9000 Spinal Decompression Machine Information & Testimonials - Part 1
DRX 9000 Spinal Decompression Machine Information & Testimonials - Part 2
DRX 9000 Spinal Decompression Machine Information & Testimonials - Part 3
How DRX 9000 can help with Degenerative Disc Disease
How Spinal Changes Lead to Painful Problems
Since your spinal column envelopes your spinal cord, the main conduit for nerve communications throughout the body, it's easy to see how even a slight misalignment in this area can end up pinching nerve tissue. The nerve roots that extend outward from the spinal cord are especially vulnerable to compression. One of the most common causes of nerve root compression is a bulging disc. As your discs age, they lose water content and height. The resulting flattening stresses the facet joints of the spine, causing pain and stiffness in your neck or back. The bulging part of the disc may also press against nerve tissue, cutting off the flow of nerve signals to other parts of the body. A herniated disc sustained in an injury can cause this same problem. The resulting symptoms may include tingling, numbness, loss of muscle control, and pain in your arms or legs, as well as neck pain or back pain.

Click here to learn more
A Non-Surgical Solution at LI Integrated

Surgery to remove disc tissue and/or fuse vertebrae should be reserved as a last resort in treating disc-related nerve compression. These surgeries don't always work, sometimes make things even worse, and require extended downtime for recovery. Here at LI Integrated, we can achieve good results safely and easily with our DRX 9000 spinal decompression table. This programmable mechanized table applies just enough flexion distraction force to pull your vertebrae very slightly apart. The resulting vacuum pressure shifts bulging or herniated discs back into their proper placement. It also helps flattened, bulging discs replenish their fluid supply, restoring some of their former height and easing facet joint stress. This treatment method is quite safe and totally painless, making it an attractive form of conservative care for disc issues.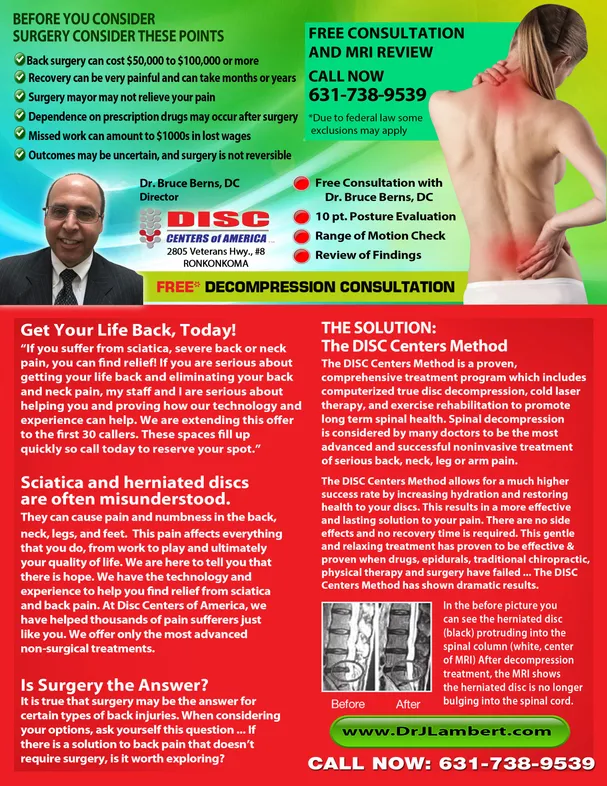 Call Our Ronkonkoma Office Today
If pinched nerves are making you miserable, our spinal decompression therapy could offer the relief you need. Call our Ronkonkoma, NY, office today at (631) 738 9539!