At LI Integrated, we have been identifying and addressing the herniated disc symptoms of Ronkonkoma residents for many years. A herniated or bulging disc can lead to pain and an impaired range of motion. If left unaddressed, a herniated disc can lead to long-term pain and immobility. Our chiropractor will assess your musculoskeletal system to determine if you are suffering from a herniated or bulging disc and provide treatment accordingly.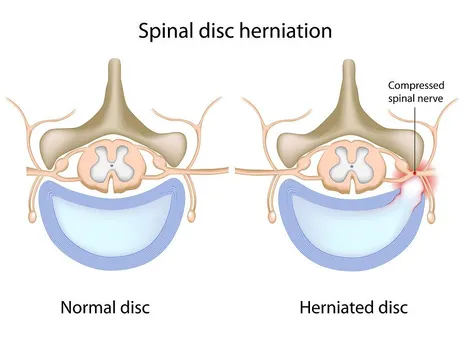 What Causes a Disc to Herniate?
Age is the number one cause of herniated and bulging discs. Vertebrae are stacked atop each other with a spinal disc separating them. These spinal discs are composed of a soft gel-like interior surrounded by a rubbery exterior. Their purpose is to absorb the constant shocks created when we move. Over time these discs dry out and lose their flexibility. Especially fragile ones can rupture, or herniate.
When this happens, the soft interior begins to seep out, placing pressure on nerves in the back and causing debilitating pain. In the case of a herniated disc, the patient experiences pain in whatever area the nerve serves. Some people feel pain, others a tingling or numbness. Some fortunate people experience no pain following disc herniation. However, if left unaddressed, herniated and bulging discs will always lead to reduced mobility.
Spinal Decompression
Spinal decompression is an effective solution for herniated and bulging discs. Our chiropractor employs a force called flexion distraction to gently and painlessly pull the vertebrae apart, allowing the ruptured disc material to slide back into place. This treatment requires nothing more of a patient than to lie back on a special programmable mechanized table called a spinal decompression table that creates a vacuum that allows the herniated disc to slip back into place. The treatment typically requires the patient to return for several sessions depending on the degree of herniation.
Contact Our Chiropractor for Herniated or Bulging Disc Treatment in Ronkonkoma
If you're suffering from herniated disc symptoms and would like to know more about our DRX 9000 decompression table, our chiropractor will be glad to discuss it with you. Our chiropractor will evaluate your musculoskeletal system to determine whether or not your pain and immobility are caused by a herniated disc and provide treatment accordingly. For more information or to schedule an appointment with our chiropractor, call us today at (631) 738-9539.